If you are considering home staging as a career, you might be underwhelmed by the amount of information about how to get started. While some colleges offer some basic courses on home staging, it can be difficult to figure out where to get your training, and whether or not it's even something that you need.
If you are planning to offer home staging services, it is recommended that you enroll in a reputable home staging certification training program. Here's the skinny on this – home staging is NOT a regulated industry, therefore, you are not required to receive any licensing, diploma, or certificate in order to call yourself a home stager. In fact, you can wake up tomorrow, call yourself a home stager, and *poof*, you're a home stager.
Right…?
WRONG
Now that you're calling yourself a home stager, what exactly makes you a home-selling expert? Why should people hire you? Why should your clients take your advice?
Sure, there are some great online resources available today that will provide you with some general information about staging a property for sale, but to become a qualified and successful home stager, you want to be sure to arm yourself with the best resources. Who do you trust with your money? Do you have a financial advisor, or an accountant? I'm sure that they have likely received some pretty extensive training; after all, you are trusting them with your money. What about your doctor, they received some training as well, didn't they? I mean, you are trusting them with your life. When working with homeowners to sell their home, you are working with their largest asset, and they are trusting you to do great work – this means selling their home in the shortest timeframe possible, for the most amount of money.
You might be thinking that you have "staged" and sold many of your own homes already, and your friends have probably told you that you should pursue a creative career because of your natural eye for design, and this is certainly a valuable skill when it comes to becoming a home stager, but it isn't the only skill needed.
Did you know?
Home staging is just as much about marketing, as it is about decorating.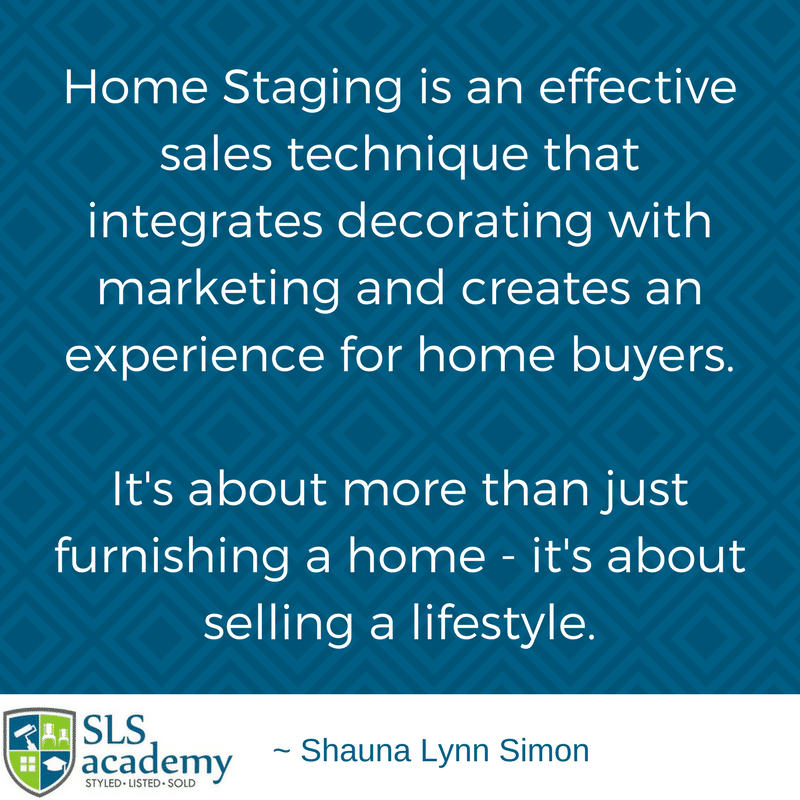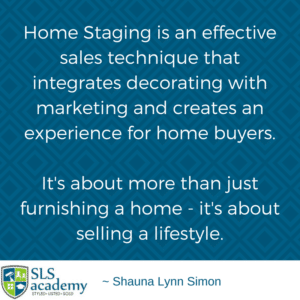 Home staging is about properly merchandizing and marketing a property for sale. Even if you have received formal training to become an interior designer or interior decorator, you will find great value in taking a home stager certification course. While many concepts of the two industries overlap and inspire each other, home staging is a part of the real estate industry, and operates with very different guidelines, processes, and "rules" (whether official or not) – your home staging certification will teach you which design elements to use and when. Setting up a home for sale takes a lot more than a little cleaning and decluttering. Here are just a few things that your certification training program should outline and teach you:
The ins and outs of the Real Estate Market, the key players and how home staging fits in
The various business structures, creating your business plan, and registering your new home staging business
Creating your staging plan by addressing buyer perceptions, decluttering, and eliminating distractions
Furniture selection and placement for optimal flow and buyer appeal
Step by step review of the home staging evaluation – what to look for, and what to address with your home sellers
Accessorizing techniques for selling
What role textures and fabrics play in home staging and design
Organizing spaces for selling and living
Repairs and updates – what to address and how to understand the value and impact of each recommendation
Creating curb appeal and lasting first impressions
Identifying design styles and working within them
Creating and preparing accurate floor plans
Colour theory – using the colour wheel as a tool in colour palette selection; understanding the components and significance of colours
Preparing your home sellers for the process of selling their home, including managing seller expectations and resistance
The home staging consultation, from start to finish
The people factor – the importance of working with the homeowner throughout the process, and understanding their needs
Managing your owner-occupied and vacant home staging projects, start to finish
Building your portfolio (especially when you are first starting out)
How to set up your office to run efficiently and effectively to keep you out meeting with clients and building the business
Contracts – what clauses to include, policies to consider, and how to create these to ensure that they are ironclad
How to work with subcontractors
Health & Safety, and how it applies to your home staging business
Insurance – what you need, to ensure that you are properly covered
How to set your policies and procedures for smooth operating practices
Inventory management and best practices (applies regardless of whether or not you choose to own large furniture pieces)
How to outline your services and set your pricing (including identifying the various services that you can offer to help your clients, such as color consultations, shopping, decluttering, organizing, project management, and more)
In addition to teaching you how to run your home staging projects, a quality home staging certification program will provide you with the tools and templates that you need to be successful – this is invaluable! I can't even begin to explain the amount of time that this alone will save you when you are first starting your business. Why re-invent the wheel? From outlining what your services will include, how to provide each service, pricing your services (to get paid your value as an expert in your field), plus contracts, insurance, and SO MUCH MORE! Mistakes can be very costly, so arm yourself with the tools and the information to safeguard yourself, and your business.
Becoming certified as a home stager will also add to your credibility. Keep in mind that the very real estate agents that you will be working with are required to take an intensive training course before working in the industry, and they are also required to earn additional credits through continuing education courses throughout the year, in order to maintain their license. They expect that the people that they work with as a part of their home-selling team are just as qualified, and have invested a similar amount of time, money, and energy.
Above all else, in taking a home staging certification course, you receive the thrill of learning something new, and I promise, you will learn something new. For more about how to choose the right home stager certification training program for you, check out our blog here.
Facebook Comments