So you've accumulated a great selection of home staging inventory, but now you have fallen out of love with many of the pieces and you feel like it might be time to move on. Hosting an inventory sale will help you to free up cash (which means more money to buy new stuff), and help to freshen up your inventory stock! It also helps to create awareness for your company. You know what they say? All publicity is good publicity! Marketing for your sale will help to draw interest and awareness in a big way!
Big or small, you can have a successful inventory sale if you follow a few simple tips. We've put together some from our own experience with these – if you see anything that we have missed, please be sure to share with us!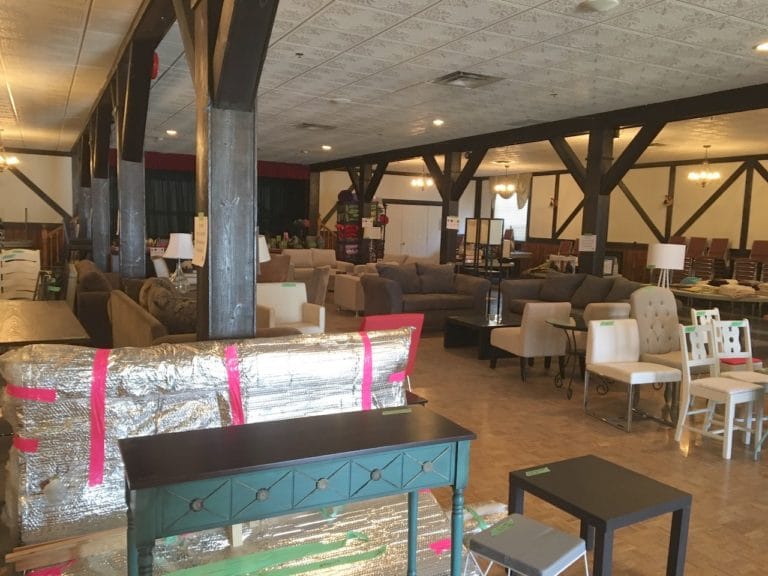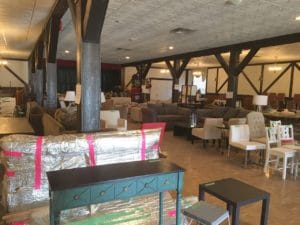 Plan
Start planning early! Begin by selecting a date for the sale – once the decision to host a sale has been made, you will find yourself looking much more objectively at your inventory, and you will be surprised at the number of items that quickly get added to your "sell" list.
Start putting items aside approximately 1 month prior to the sale – this can be done by starting an "order" within your inventory database system and adding "sell" items to it, or simply designate an area of your warehouse to move items to (if you are short on space, consider renting a temporary storage facility). As you find new items to retire, take them out of use immediately to ensure that they are not used prior to a sale.
Choose a location to host the sale – will this be at your warehouse, or will you need to move the items off-site to accommodate? If your warehouse does not provide adequate parking, or is in a remote area, you may wish to consider renting a space for the event (my first sale, I rented a banquet hall – this allowed us to move the items in the day prior to the sale, and proved to be a perfect solution in a high-traffic area).
Notify your neighbors (if you feel that it may affect them). If they run a business that can benefit from foot traffic, they may want to offer a special promotion that day as well! If your neighbors are residential, encourage them to host yard sales on the same day to capitalize on the traffic that you will be bringing to the area.
Marketing Tips
DO NOT allow for early bird sales, and be sure to note this on all marketing – early bird sales will not only cause you unnecessary stress, but it could also cause you to have a less successful sale if those that arrive on time for the sale cannot find the items that they were expecting. This goes for both the day of the sale (open the doors when you say you're going to open the doors) as well as the days leading up to the sale. We all have that friend, cousin, or colleague that will say that they just can't make it to the sale, or that they HAVE to have a specific item, and beg you to guarantee them the sale. The communication time back and forth, making arrangements outside of the sale time for them to pick the items up (all while planning and organizing the big sale), collecting payment, etc. is not worth it – trust me!
Market your payment methods ahead of time – I recommend a Cash & Carry policy, but with this you will need to ensure that you have advised the public prior to the date of the sale (it is also useful on the day of the sale to have a list of 2-3 bank machines close by that people may go to if they are running short on cash).
Advise in your marketing to bring boxes, bins, blankets, large vehicles, etc. – anything that they will need to be able to take their items with them safely that day!
While you don't need to put together a full price list catalog, you should provide some images of actual items that will be for sale.
Create lawn signs for the day of the sale to help people to easily navigate to the location.
Sale Day Policies
Be sure to have clearly outlined policies, and communicate these both before, and at the sale. Here are a few that I recommend considering:
Cash and Carry – this means that they pay cash, and they take the items with them. Make mention on all sale advertising, and post signs throughout the sale indicating this so that no one is taken by surprise when it's time to check out.
Holds – I swore that I would not do holds for anyone, but admittedly that rule was quickly thrown out. We did however put some stipulations on this. Designate an area at the sale for temporary holds. This will somewhat tame the chaos. Be sure that someone from YOUR sale staff marks these products as "still shopping", along with the customer's name Here are some examples of what we allowed as a "hold" situation:

Customer is still shopping and just need a place to temporarily to put the items (think of what you look like when you go to Home Goods!).
Customer didn't bring enough money and needs to run to the closest bank machine. For these situations, I recommend having them pay whatever amount they can, then putting a very tight and very strict time limit on the hold.
Customer needs a bigger vehicle to take the items with them. In this instance, be sure to have them pay in full first, and enforce a strict pickup time. If they are unable to make the pickup time, charge a "holding fee" at your discretion. If they do not return before the end of the sale, and you need to make arrangements for pickup another day, charge a storage fee as well.

Do not offer delivery of items unless you are well equipped to do so, and even then, ensure that you are charging a fee for this.
Sale Day Logistics
I recommend providing some shopping bags, baskets, or bins. We stock a large number of baskets with handles that we use in staging projects, and provide these as a shopping tool (clearly stating that they are not for sale, and are for use only). This allowed many shoppers to pick up more small items than they might have otherwise.
Plan for the expenses associated with hosting a sale:

Wages – you will need to pay your staff for their time (and potentially hire additional help) for the day – factor this into account when you are determining your pricing
Location – if you are unable to host at your own warehouse or storage, there may be additional fees charged by the location that you choose, as well as moving expenses
Signage – a worthwhile investment, be sure that you have clear signage throughout the sale, as well as on the streets surrounding to direct people to the event.
Marketing – you shouldn't need to spend much (if anything) on marketing, but if you do choose to do some form of advertising, be sure to calculate this in with your expenses
If you choose to disregard my cash and carry policy recommendation and opt to accept credit cards, don't forget to factor in the merchant fees associated with this. As well, you may need to purchase or rent a point-of-sale device for processing if you don't have one already.

Post "Policy" signs throughout the venue – this refers to payment methods (as previously noted), as well as any other rules/guidelines/restrictions for the day, such as "no holds", "items sold as-is", and "all sales final".
If you are selling an item that has multiple pieces (i.e. dining table), ensure that all pieces are fully accounted for, or noted if any items are missing.
Make your staff easy to find – we use pink bandanas and have our staff wear these wherever is most comfortable for them (provided it's displayed from the waste up). If you have staff shirts, hats, or another identifier, then you're already set!
Label items with the dimensions when possible, and have measuring tapes on hand for people that need to take measurements (sometimes they need to borrow the tape measure to measure the space available in their vehicle to see if an item will fit)
If an item has significant damage, especially if it affects the stability or potential safety of use of the item, be sure that this is clearly identified.
Pricing Items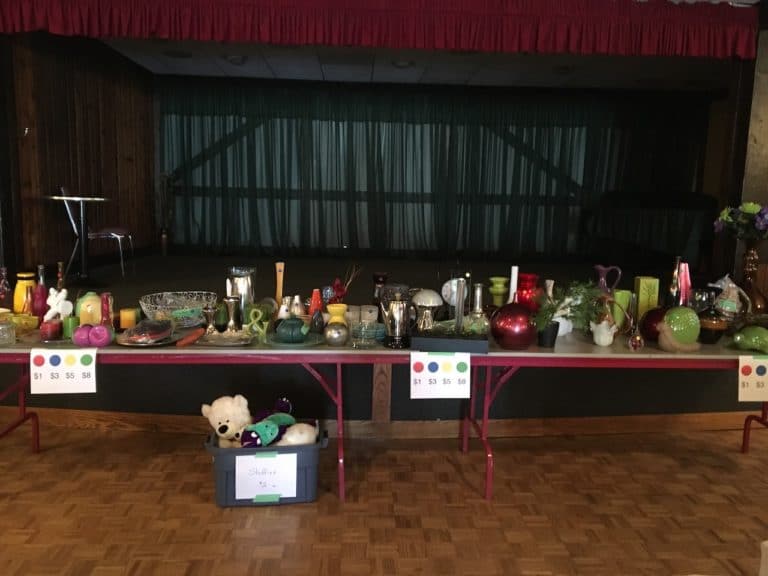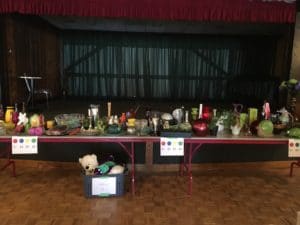 Ensure that ALL items are assigned a price. Be fair, but don't base the price on what you paid for the item, think of what the item is worth. Make your judgment based on style, condition, and perhaps how badly you want to offload the item.
If you are unsure about whether or not you want to sell a piece, set the price based on what would make it worthwhile for you sell, and mark a heart <3 on the price tag. This will tell you, and anyone else that might be negotiating pricing, that this item is non-negotiable, as you will happily return it to your inventory following the sale if necessary.
Negotiating
Short answer: just don't. At least not to start. Gauge this based on the traffic that you receive at the start of the sale, but do not offer any negotiation on pricing until the initial frenzy dies down.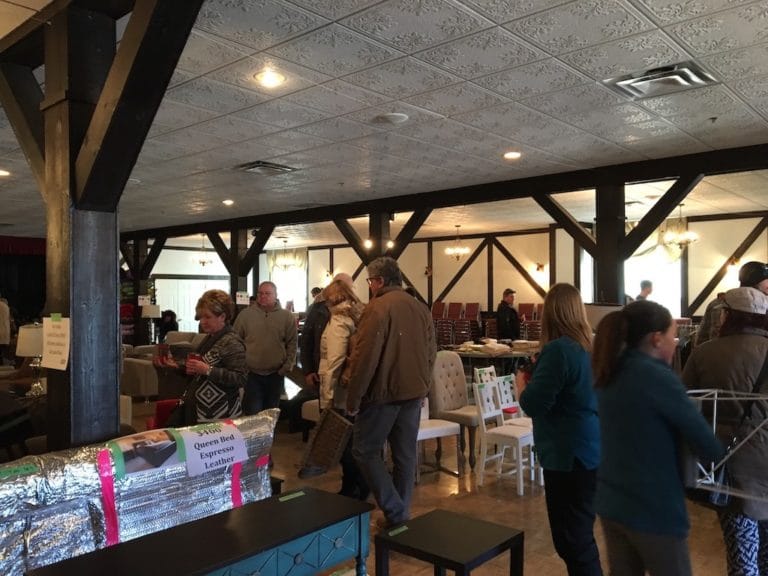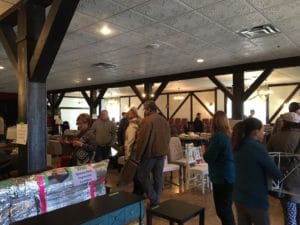 Here are a few tips to keep your sanity, and manage the negotiations:
Designate ONE negotiator (ideally, you). If anyone wants to haggle on the price, they MUST speak directly with you. By limiting the authority of this, most will simply pay the stated price.
Once the initial frenzy has died down, use your discretion with negotiating. I recommend encouraging a "bundled" price as opposed to discounts on specific items. This will make the sale more worthwhile for you, and allow you to get rid of more inventory!
Have a specific colored marker to be used for price slashes or negotiated mark-downs – this will keep your customers honest, and help your staff to easily identify a valid mark-down
Checkout Tips
Have people that you trust – these may be existing employees, or life-long friends, but since they will be handling a lot of cash, be sure that you are comfortable with them managing this.
Have a system for tracking what items have been sold (scanning a bar code, taking a photo, writing it down, etc.)
Left-over Items
Have a plan for these ahead of time, whether you will return them to inventory, donate to a thrift store, or drop at a consignment store to sell for you. You may choose all 3, depending on the items that are remaining at the end of the sale.
Be Prepared!
Create a checklist of the items that you need to have on-hand for the day of the event. If the sale is taking place at your warehouse, you will have easy access to anything that you forget, but if it's taking place off-site, take extra care in packing. Most of these supplies are likely already a part of your standard staging kit!
What to pack:
Glass cleaner
Rags and dusting cloths
Touch-up markers
Tape – painters / electrical / packing
Labels (for pricing)
Cardboard boxes – keep extra cardboard boxes leading up to the event to provide to customers
Miscellaneous tools (hammer, screwdriver, pliers, etc.)
Cash box (with lock)
Extra safe (depending on the size of the sale, you may wish to have money removed from the cash box periodically and stored in a safe)
Blank paper
Packing paper / bubble wrap (no need to purchase this, but if you have extra that can be provided, your customers will appreciate it)
Baskets (for shopping – not for sale – pack a sign to note this)
Display tables
Storage bins
Moving blankets
Lawn signs
Staff shirts, bandanas, or other identifier
Safety vests (for staff that may help loading items for customers)
Tarps / tents if any part of the sale is outdoor
Colour coded dots – these are great for marking small items
Aprons – for cash and carry sales on the floor, if you wish to allow this
Marketing material – be sure to have postcards, brochures, and/or business cards handy!
Sold signs (for items that are paid for – these should identify whom purchased the item, the time it was purchased, and when they are returning to pick up)
User manuals – if any of your items have a user manual
Candy/chocolate – it might sound silly, but having bowls of candy or chocolates makes the chaos of those waiting in line just a little more bearable!
Calculators – technology fails and phones die – be prepared!
Scissors
Bank machine listing
Permanent coloured markers
Sign in/out sheet for staffing
Measuring tapes – have LOTS of these on-hand
Clear garbage bags (for large sales of pillows, etc)
Pencil cases for money drops
Dollies
Light bulbs – you may choose to sell these, but regardless these should be available to allow customers to test lamps
Batteries – same reasoning as the light bulbs – if you are selling anything that would require batteries, have some available to show that the item is functional
Facebook Comments